This week a brand new live casino game hit the virtual shelves at all those sites that work with Playtech as their live casino provider.
Adventures Beyond Wonderland is an Alice in Wonderland inspired game similar in many ways to Monopoly live, but with its own features and absolutely bags of character.
The hosts even dress up in crazy outfits to fit in with the story.
It's another wheel of fortune type game but is it different enough to what is already out there to make it worth playing? This guy thinks so, and you can find out why below.
Adventures Beyond Wonderland Gameplay
The base game will not surprise anyone who has explored game show style live casino games before.
It's a simple case of spinning the wheel and betting on where you think it will land. You can bet from as little as 10p and choose from:
1
2
5
10
Magic Dice
2 or 5 Wonderspins
Betting on 1-10 multiplies your bet amount by that number if the wheel lands on it, but you can win a lot more if the wheel lands on the features – although you do need a bet on them as well.
Obviously, there are more 1s on the wheel than 10s or feature spaces, so the chances of winning a lower amount are much greater.
Wonderspins
You can bet on either 2 Wonderspins or 5 Wonderspins, but both work in the same way once the round begins.
The big wheel spins around to reveal the Wonderspins wheel and the numbers etc are replaced with beloved characters from the famous Wonderland story such as the doormouse, white rabbit, dodo etc.
Each character has a multiplier attached, so if you land on a character with a 4x multiplier your payout is multiplied by 4x. This keeps going until your spins are used up, but that's not all.
Before each spin a multiplier between 2x and 10x will be selected and applied to whichever character the wheel lands on. That character will be worth the new multiplier amount for the remaining Wonderspins, so a 4x character with an 8x multiplier attached will be worth 12x until the end of Wonderspins.
Magic Dice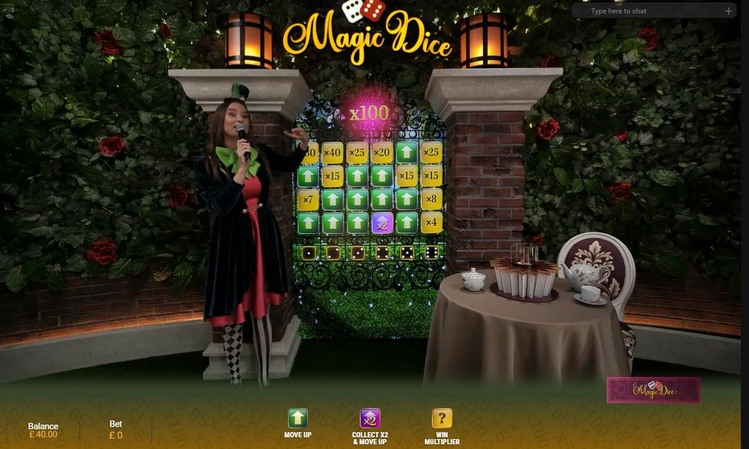 This round runs on a 4×6 board and the aim is to get to the top of it. Dice are rolled to determine whether or not you progress from the bottom level to the next.
Players choose to follow either the red dice or the white dice for this feature round, and the number that is rolled on the dice you are following dictates what happens next; rolling a 1 puts you on the first space on the bottom row of the board, rolling a 2 puts you on the second space on the bottom row, and so on.
The 4 tier board contains three different types of square and one of these will be covering each space: up arrows, up arrows with multipliers, and plain multipliers.
Landing on a multiplier ends the round but grants you the multiplier, up arrows with multipliers increase your payout but also allow you to go on to the next level, while up arrows simply allow you to progress to the next level.
The further up you go, the fewer up arrows there are. The top level is made up of high multipliers between 20x and 30x, as well as one single up arrow which paves the way to a massive 100x multiplier.
Mystery
You can't bet on this option but if the wheel lands on the 'mystery' space that ugly looking caterpillar on the right will blow a big bubble which pops in the middle of the wheel.
This will grant a mystery multiplier to all spaces on the wheel, before the wheel is spun for a second time with all bets remaining in place.
The winners will all see their payouts multiplied by whatever the mystery multiplier was, so a winning bet on number 5 with a 3x mystery multiplier would payout at 15:1.
Not bad for a free feature.
Wonderland Theme
As you may already know, I'm the sort of player that enjoys strong theming almost as much as winning potential.
I think entertainment value is an equal consideration when looking at new games because after all, the best way to think about them is as entertainment first and a way to win money second.
Playtech have gone all out developing Adventures Beyond Wonderland, with a great blend of clever CGI, set dressing, and host engagement.
The set looks phenomenal, played out on an overgrown chaotic chess board complete with cups of tea, while CGI characters hang out or run around and the host dressed in an equally mad outfit runs the game.
There's even a revolving floor:
Glorious. Reminds me of a night out in Flares back when I was at Uni…