Hands up if you watched and enjoyed Sons of Anarchy?
It was pretty cool wasn't it? I especially liked the early series and the one where they went to Ireland, but I thought it got a bit stupid towards the end with people getting shot left right and centre.
Anyway, I digress.
The reason I mention it is because I have been playing Dead Riders Trail, by Relax Gaming, and it has made me feel like buying a leather jacket and a Harley in the same way Sons of Anarchy used to.
I'd look ridiculous it has to be said, but nevertheless, the dream is still there.
This slot has 50,000x winning potential too, so in the unlikely event that I ever won the top payout I could probably afford both.
Theme and Appearance
Opening with a cutscene that leaves you in no doubt as to how this gang makes their money, Dead Riders Trail is kick ass right from the start.
This is going to be a glowing review, but I genuinely liked the game for its design and style of play, not just because the theme is (as those annoying young urbanites say these days) 'a little bit of me'.
This is a game that has been given a lot of attention, tested as thoroughly as one of the 'prospects' at an MC, and Relax can be as proud of it as a biker is of their cutte.
The graphics are perfectly pitched, and the backdrop to the slot is alive with smoke wafting from the barrels of guns, and bank notes floating from behind the reels across the screen.
The atmosphere is really well created, and although the music felt a little at odds with the game at first (I was probably expecting This Life, the Sons of Anarchy theme tune), it soon beds in.
Everything that is there to support the game and create the world in which you are going to play is on point.
Gameplay Overview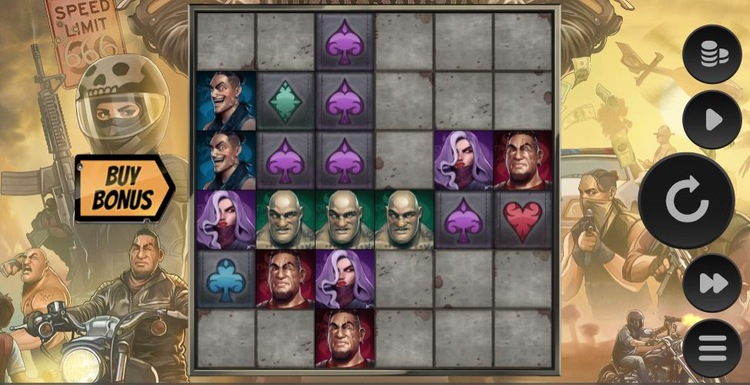 The layout is different and interesting, using a 6×6 grid with cascading reels and with payouts given for landing the same symbols on each reel from left to right. So there are no traditional paylines.
The other interesting thing about the base game is that not all spaces on the reels will have a symbol, but some will be replaced with stone blocks, and the number and location of them is different on every spin.
It' the same thinking behind Megaways really, but a genuinely new twist on it rather than a copy, and this has been woven into the gameplay too.
Winning symbols will destroy any stone blocks touching them, and if all stone blocks are destroyed in a single 'spin' (including any extra wins occurring when new replacement symbols drop in) then the feature wheel is triggered.
Feature Wheel
This is a spinning wheel which uses an Uzi as a pointer – see, kick ass – and will give you either 4 or 7 freespins, or access to the Bonus Trail board game, or the Super Bonus Trail board game.
We will get onto those in a minute, but assuming you trigger free spins, then an extra bomb symbol can appear on the reels on top of any of the stone blocks.
A win the involves a symbol that is adjacent to a bomb will set it off, destroying all symbols on that reel and turning them all into a matching symbol.
This can happen in more than one place at the same time, and if all stone blocks are cleared then extra free spins are added to your tally.
One other thing to note about the Feature Wheel, is that you can gamble your freespins for a shot at the Bonus Feature Trail.
If you have 4 freespins you have a 33% chance of winning the gamble, if you have 7 freespins you have a 52% chance of winning the gamble.
It's up to you what you decide, but you can tell from the iage on the right what happens if things don't go your way. Ouch.
There's a wild and stuff in the game as well, but the really exciting bit – like, really exciting – is the Bonus Feature Trail.
Bonus Feature Trail
Honestly, I had so much fun playing this feature, and not just because I was winning either.
It's like a bad ass version of monopoly, except every place on the board adds a multiplier to your winning total, and some spaces have extra goodies too.
The key elements are:
Fuel Cans – You have 3 fuel cans, each representing a turn, and when they run out the round is over.
Fuel Stops – Spaces on the board that replenish one can of fuel. Some are locked in place, others can only be used once, so there are fewer remaining as the feature goes on.
Trucks – There are 7 trucks on the board, which when landed on, will release a special feature which will boost all multipliers for the duration of the feature. You really want to land on these, the gold ones especially as they contain better special features. All trucks also refill all 3 of your fuel cans.
Each turn will see you move between 1 and 6 spaces around the board, collecting the multipliers as you go.
Each times you make it around the board all multipliers will increase by 3x, and special features released by the truck can boost them a lot too.
This can get ridiculous at points, with spaces that started as 2x multipliers finishing up over 100x, so the total can really soar later in the round.
What adds to this is that some features are sticky, so for example a 'Payer' symbol might add 4x to all spaces, but a sticky 'Persistent Payer' will add 4x to all spaces on the board before each turn. You can stack persistent symbols too so they just keep happening.
That's how I ended up with this big win:
Honestly, this is one of the most entertaining, dynamic bonus rounds I have played. I wasn't even playing with real money but I was loving it.
I should say that the above was taken from the Super Bonus Feature Trail, which works as described above but there are more Golden Trucks and better special features to trigger.
Conclusion
It hardly needs to be said but i'm fanboying all over Dead Riders Trail.
The theme is done well and just so happens to be something I tend to enjoy anyway; the base gameplay is unique and fun, and there are a few different levels of feature rounds too.
It's a high volatile game apparently but that wasn't my experience of it, and my RTP was way above the stated 96.2%, but that's how variance works isn't it. Some other poor bugger will have got nothing because I nicked all of their RTP.
That's slotting for you though, and that's why I only ever approach it as a bit of fun, and this game is 100% fun.