The UKGC has issued its largest ever fine this week, and it has gone to a company with form.
A stonking £13million (unlucky for some!) landed on the doorstep of land based casino operator Caesars Entertainment for what have been described as "systematic failings", and it comes just a few years after they were fined £845,000 for anti-money laundering failures.
This action follows the £11.6 million fine dished out to Betway last month, which itself was a record high at the time, but the UKGC are clearly not messing around when it comes to their commitment to improving the safety for players and enforcing the responsible behaviour of operators.
Licenses Surrendered
It looks to be the most serious breach of conduct that the UK's regulating body has discovered so far, and this is evidenced not only by the size of the fine, but by the fact that 3 senior managers have surrendered their personal gambling licenses and left the offending company.
The handling of VIP customers was again cited as one of the major failings, with one customer showing obvious signs of problem gambling yet still being allowed to gamble and lose £323,000 in one year regardless.
Speaking on behalf of the United Kingdom Gambling Commission, chief exec Neil McArthur said:
"The failings in this case are extremely serious."
adding that;
"Consumer safety is non-negotiable."
He was no doubt also referring to the customer who was allowed to wager £3.1 million pounds in 3 months, losing £1.6 million of it, without the proper checks as to the source of funds.
Caesars have accepted the fine and the responsibility for coming up short, adding that these offences occurred between 2016 and 2018, and they have now enhanced their compliance policies and procedures
The entirety of the £13 million penalty will go towards the UKGC's fight to reduce gambling related harm.
Who Are Caesars Entertainment?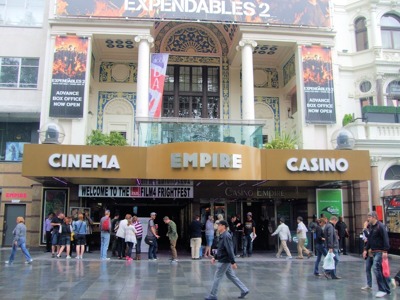 Caesars Entertainment are an American gambling company founded in Reno, Nevada, the state which Las Vegas calls home.
They own hotels, golf courses, and casinos among other business ventures, and are a billion dollar company. Obviously then, a £13 million fine is not going to cause them any sleepless nights – it's the equivalent to docking your son's pocket money – but the bad press won't do them any favours in the UK.
It will also put them firmly on the UKGC's watch list, and a step closer to losing their license if they continuously step out of line. So while this fine may be a drop in the ocean, the prospect of losing all UK business will definitely hit home.
Caesars run 8 casinos in this country, including the Playboy Club in Mayfair, the Empire in Leicester Square, and the 235 Casino in Manchester, where Wayne Rooney is rumoured to have lost £500k in a 2 hour gambling spree back in 2017.