Innovation is the name of the game if you want to make an impact on the slot industry.
With so many slots being released each month players can't sample them all, so they have to choose the most promising, or the most exciting, or perhaps they fall back on trusted old favourites.
We know from witnessing how massively the Megaways mechanic took over the industry that a good idea executed well can do wonders for the company behind it and change the face of online slots as a whole.
Well, SG Digital have just launched their own innovative new game mechanic in an attempt to do just that, and it's a pretty gutsy move: Jackpot Wars.
Jackpot What Now?
Remember robot wars? Well it's a little bit like that but with a distinct lack of Craig Charles.
With Jackpot Wars players can compete with others in 4 different jackpot 'leagues' using robots they have built and improved using 'cogs' earned when playing slots.
It brings a whole new dimension to online slot gaming and really, it changes the very foundations of playing slots as we know it. It won't be for everyone, and that's OK; it is aimed specifically at the millennial market and those who might want something that bridges the gap between slots and e-gaming.
Purists, of course, will hate it, but for those who wish slots had that little bit of extra punch to them this is definitely something to try.
How Does it Work?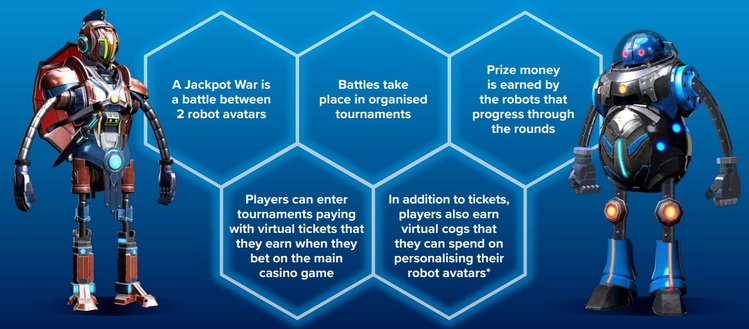 The mechanic is essentially a bolt on that can be paired with any slot game. Due to the nature of it – robots, tech, and fighting – it would suit slots with futuristic, sci fi, and mecha type themes best, but there is no limitation here.
While playing your slot you will collect cogs and tickets:
Cogs – 1 per 20p wagered.
Tickets – 1 per £25 wagered
The cogs can be used to improve and update your robot by spending them on weapons and armour etc, while the tickets buy you into one of the four jackpot leagues.
These jackpots work in the same way as a mini, midi, major, epic jackpot might work on a regular progressive, with the smaller jackpots costing fewer tickets to enter. They will only open for battle once a certain target amount has been reached though.
After that it's a case of battling other entrants for your place in the final and, with any luck, ultimate glory and an ultimate payday.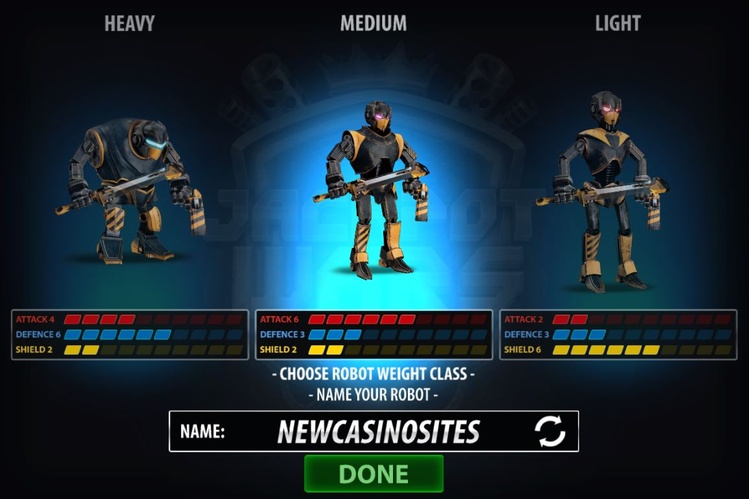 The only slight negative is that all of your robot upgrades actually have zero effect on your chances of winning each battle. It's 50/50 regardless, so the upgrades are nothing more than personalisation in reality which is a bit naff – especially given the target market.
This might all sound like a lot of work too, but SG claim this is actually your best chance of winning a progressive jackpot, and it sounds like brilliant fun as well to be fair.
Jackpot Example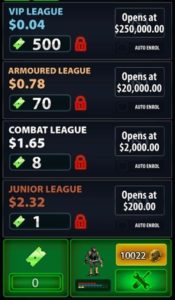 Say you had amassed the 8 tickets needed to enter the Combat League (2nd tier jackpot).
Once it reaches its target amount of £2,000 the 30 minute countdown clock will begin, during which time you can buy entry.
Once it begins you will face off against another player to get through the first round of 16, then progressing through to the round of 8, then 4, and then the final.
The jackpot is actually split between the top 4 finishers, so you effectively have a 1 in 4 chance of taking something away.
In our example of the Combat League with a £2k pot it would look like this:
| Finishing Position | Percentage of Jackpot | Monetary Value |
| --- | --- | --- |
| 1st | 85% | £1,700.00 |
| 2nd | 10% | £200.00 |
| 3rd | 2.5% | £50.00 |
| 4th | 2.5% | £50.00 |
As you can imagine, when playing for the big £250,000 prize things could get pretty intense!
Where Can I Play Jackpot Wars?
The first game offering Jackpot Wars was launched at the end of July; Jin Ji Bao Xi. There is another hot on its heels though in the shape of Jinse Dao Tiger.
So at the moment you are going to have to search your casino sites for the one title and if they don't have it you will have to go somewhere else.
However, if this catches on, and it may well do with the bigger chance to win a progressive jackpot, then you can expect it to start popping up everywhere within a few years.
In my view, it's a brilliant idea which pleases everyone in theory; the casinos enjoy better customer retention due to enhanced engagement and can also appeal to new audiences, while the players get a much richer gaming experience as well as a bigger chance to win a share of the jackpot.
However, by making the upgrading side of the game so weak and soft, SG might be putting off the very people it is trying to appeal to. I'm a gamer, and while I love this idea I would not be impressed with spending hundreds of 'cogs' on extras to beef up my robot only to find they had sod all impact on the outcome of the battle.
The jury is out on this one.