I've been really getting into my lesser known slot providers recently, having grown a bit tired of all of the usual suspects that I've been hammering during this never ending lockdown.
I've been playing responsibly, don't worry, with a lot of free play going on as well to test games out.
Anyway, this has brought my attention to a Polish developer named Kalamba Games, and they have just released their latest title, Agent 51.
It's alien themed so the name is clearly 'borrowed' from Area 51 – presumably they were worried that actually calling the game Area 51 would bring be-suited strangers wearing dark shades and serious expressions knocking – and they have had a lot of fun with the theme.
So here goes, let's investigate this extra terrestrial title and see what it's all about.
Agent 51 Set Up
The game is probably set in the 60s judging by the agent's outfit and the camera he is using. This agent fellow actually pops up as the wild too, and his polaroid camera is also a key feature of the game.
It's a standard 5 reel 3 row layout with 20 paylines paying left to right, but this does get changed up slightly during some of the bonus rounds. There is a maximum win potential of 5593x and the RTP is 96.17%
Symbols include alien footprints and the aliens themselves, as well as the agent as wild as already noted, and a UFO symbol acting as a free spins symbol of sorts.
You will also notice what Kalamba call an 'accumulation meter' above the reels. This is made up of polaroid's hung out to dry and develop, and when the camera symbol lands on the reels it will snap a photo with a multiplier and one of the pictures on the meter will become active.
More on that below.
Agent 51 Gameplay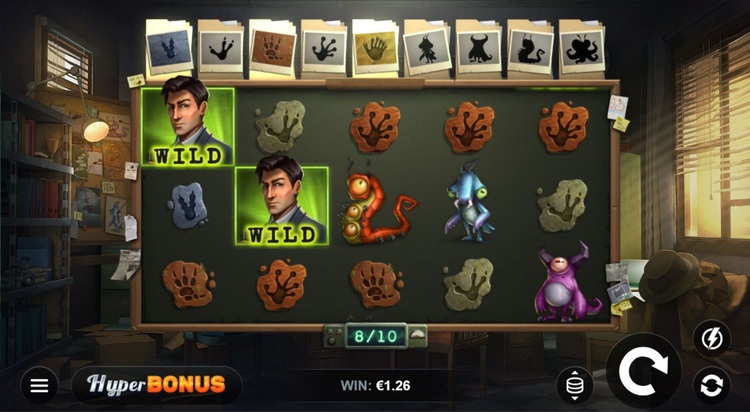 What is really interesting about this game is that it is played in groups of 10 spins, because on every tenth spin the accumulation symbols are activated.
During the base game the camera symbol will activate as many symbols on the accumulation meter as possible, and all those symbols that are active on the tenth spin and then land on the reels will turn into expanding symbols.
This can fill the reels many times over (i.e it's not just the highest paying symbol that pays out), so if two activated symbols land on the same reel they can both expand.
The only thing is you need at least 3 of each activated symbol to land for this to trigger, but as you can see in the game image here, at this point you can win without forming traditional paylines.
This makes the game all about that tenth spin really, because even though you can pick up small wins along the way, if you are going to make bank in the base game this is where you will do it.
Agent 51 Features
The wild acts as expected but will also pay out wherever it lands on the reels so long as there are 3 or more of them:
3 Wilds – 2x Bet
4 Wilds – 4x Bet
5 Wilds – 20x Bet
On top of this, landing 3 of thing will trigger the free spins round.
This round uses the accumulation meter on every spin, and starts you off with one random symbol to use as a special expanding symbol throughout. More can be added in the usual way, with the camera symbol, and further free spins are added each time the UFO symbol lands.
You also only need 2 of your active expanding symbols to land for them to trigger a payout instead of the three needed in the base game. It isn't uncommon to fill the reels with a single symbol during freespins, and if you get lucky with a symbol that also has a multiplier you are quids in.
You can also buy your way in to freespins using the Hyper Bonus option. I'm not usually a fan of these as you don't often get back more than it cost to buy the round in the first place, but either I got very lucky with Agent 51 or it simply uses a better mathematical model than most, because I made money 50% of the time and even when I lost I wasn't miles away.
Summary
I found Agent 51 to be highly entertaining.
The art work and little animations are great, and the world of the game really comes to life.
More importantly, the game is super engaging thanks to the anticipation of every 10th spin and the ability to buy a feature round where you feel you might actually be rewarded instead of feeling pick pocketed.
The RTP moves around a little bit when you use the Hyper Bonus feature, but it doesn't stray by much, just a few tenths of a percent.
It's ranked as a highly volatile slot but that wasn't my experience at all, especially during frees pins, so I'd recommend it to all but those on the tightest of budgets.