I haven't really been playing much recently; i've been busy, i've not had much spare cash and to be honest, I just needed a bit of a break from it I think.
However, I have been keeping an eye on NoLimit City ever since I first wrote about them and when I saw that they were releasing El Paso Gunfight I just had to have a look.
It's a slot based on a real life incident from back in the 1880s Wild West, where four men where killed in just 5 seconds. Look it up, it's interesting.
Anyway, I gave the reels a good spin and it really captured my attention, so I figure it was deserving of a post on this website.
Layout and Design
NoLimit City are known for their willingness to push boundaries, both with game content and with gameplay itself, and this one is no different.
Alongside the Fist Full of Dollars inspired music and the sweary cut scenes, the game is played out on a 5 reel grid but with a 4, 3, 3, 3, 2 pattern as standard, although this can be flipped using the volatility settings.
There are between 216 and 43,334 ways to win depending on your volatility choices, and the setting is the bar of the saloon where the famous gunfight occurred. You might find the art work a little less immersive than some of NoLimit City's other slots, but the animations are awesome, with bullets flying all over the place.
The RTP stands a shade above average at 96.06%, and some of the developer's trademarks are included such as the XNudge and the Bonus Buy option, the latter of which will trigger a special feature for a price.
Game Features
The game is feature rich, which does a lot to keep you interested and is also fitting for the theme – wild west towns were action packed places right?
I'll cover a few of them all together then talk you through the free spins separately because they are a bit more complicated.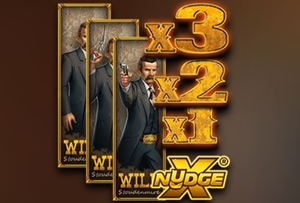 The XNudge has already been mentioned, and this will nudge any partly showing wild to cover the whole reel it is on.
The number of nudges needed to get the symbol covering the full reel will then be applied to the wild as a multiplier; so if it nudged twice a 3x multiplier would apply to any wins since it starts on 1x anyway.
The great thing about this is that the effect is cumulative, so if a wild showed up on 3 reel and they all needed to be nudged twice you would end up with a 9x multiplier.
Next up is the Raid feature.
When the Deputy and Marshall badge symbols land the Raid feature is triggered:
Deputy Badge Only – All low value symbols become the same random low value symbol.
Marshall Badge Only – All high value symbols become the same random high value symbol.
Both Badges – Not only do the above effects come into play, but the grid opens up to a 4, 3, 3, 3, 4 pattern and the badge symbols act as wilds.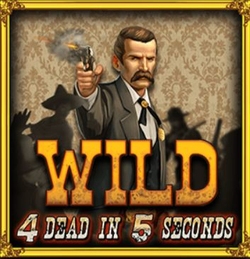 The next feature is called 4 Dead in 5 Seconds and is triggered by landing all four of the main characters (the high paying symbols) as well as the Stoudenmire wild on the same spin.
This causes a respin, during which the wild will expand to cover the three middle reels.
It will also display a multiplier that will be applied to any winnings.
Free spins are up next but it is a multi-layered feature which will be easier to understand if explained in its own section.
Gunfight Spins
Landing 3 scatters on the middle reels will trigger what is essentially a free spins round, but it is a little more in depth than most other games.
At its most basic level, 3 scatters give you 8 free spins, and you can choose to play them at high or extreme volatility – your call.
During this round the scatters becoming jumping wilds and will move to a new position after each free spin. What's more, landing a Stoudenmire wild on the same reel as a jumping wild will double its' multiplier for each jumping wild on that reel.
If you spin a badge symbol onto the reels it will add 1 further free spin to your tally.
Now it gets more complicated because the way you trigger the round can bag you even more goodies:
3 Scatters & Deputy Badge – This has all of the same benefits as above, but the badge will remain in place for the whole round and act is it does in the Raid Feature, turning all low value symbols into the same symbol to create more wins.
3 Scatters & Marshall Badge – As above but the Raid Feature applies to the high value symbols.
3 Scatters & Both Badges – This triggers Drunken Gundfiguth&r Spins – that's not a typo – which gives you 10 free spins as well as opening up the grid to a 4, 3, 3, 3, 4 layout. The 3 scatters and 2 badge symbols will turn into 5 jumping wilds, and if a Stoudenmire wild lands on the same reel as a jumping wild it will be locked in place for the remainder of your spins along with any multiplier, while the jumping wild will be removed.
That last one is a real doozy huh?
My Experience Playing El Paso Gunfight
I loved it.
There are loads of Wild West themed slots out there but this one is set apart thanks to being based on a real event, the developer's willingness to treat players like adults when it comes to content, and the mass of in game features.
I'm a fan of NoLimit City anyway because I enjoy their style and the freedom they give players with their volatility and feature buy options, but anyone who isn't afraid of more grown up slots should enjoy this at least once.
It's high volatility for sure, so it's not a very relaxing game, but the max win potential is huge and from my play session it doesn't chew through your balance like a ravenous bear in the way other games can.