I like writing about games by Nolimit City.  Whether you enjoy their games or not you can't deny that they have a distinct USP, and their games are always unique.
I've pretty much loved everything they have produced for the last 18 months, but I must admit, I have mixed feelings about Remember Gulag.
Part of that is down to my own personal preferences with what I want from the slots that I play, but part of it is also down to the game itself.
It was released this week and is available to try or play for real all over the internet, so give this a read and see what you think for yourself.
What is Remember Gulag About?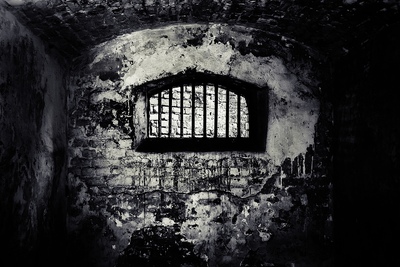 For anyone who doesn't know, a Gulag was a Stalin era Russian prison camp where hard labour was enforced on inmates, whose crime was often nothing more than disagreeing with a dictator. Not somewhere you would want to end up.
An odd setting for a slot game then, and the fact that much of the interface is in black and white or has a sort of greyed out appearance does nothing to lighten the mood.
Their San Quentin title was also set in  a prison, but that felt fun at the same time as being gritty and hard hitting, whereas Remember Gulag just feels grim – and even distasteful.
The artwork is all very fitting, don't get me wrong, and the soundtrack couldn't set the tone any more clearly, but is it fun? Appropriate? I'm not so sure.
The game is packed full of features though, so lets have a look at that side of things instead.
Remember Gulag Gameplay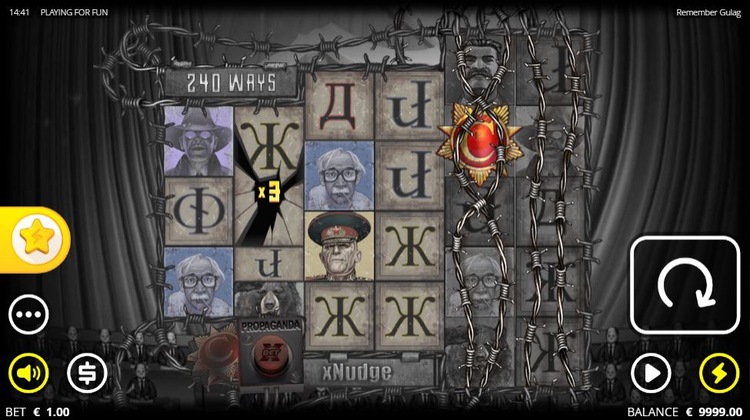 With no less than 3 different (sort of) bonus rounds and almost a full complement of Nolimit's X features like xWays and xSplit, there is a lot going on in Remember Gulag.
First though, here are a few basic stats about the game:
RTP: 96.08%
Max Win: 30,000x
Volatility: Extreme 10/10
Reels: 4-6
Paylines: 144 Ways – 614,656 Ways
The game is played out on a 3,3,4,4,5,5 grid, with the last two reels being covered in barbed wire and only coming into play in the base game if scatters land on the first four reels.
This makes it hard to win much in the base game, and in fact the hit rate is only something like 22%, which explains the volatility but isn't much fun to play. That's the price you pay for big max wins though I suppose.
You can turn on 'Propaganda', which guarantees a scatter somewhere on reel 2 but it costs 20% on top of your bet and of course, that scatter takes up a position on a reel with only 3 spaces, leaving less room for winning combinations to get through.
Anyway, the base game also contains x features as follows:
xWays: Appear on reels 1 and 2 in the base game and reels 5 and 6 during bonus spins. Reveals a standard symbol and can be 1-3 symbols in size.
xNudge: Appears on reels 3 and 4 in both base and bonus game play. xNudge will make a wild expand to cover the entire reel, adding a multiplier for every space it expands.
xSplit: Appears on reels 5 and 6 in the base game and 1 and 2 during bonus spins. This feature splits all symbols to the left and right and doubles them, before the original spit symbol becomes a double wild.
In all honesty though, these features are rarely beneficial even when they do crop up, because they occur so far away from the first reel that there's a never a winning combination for them to impact.
Remember Gulag Bonus Features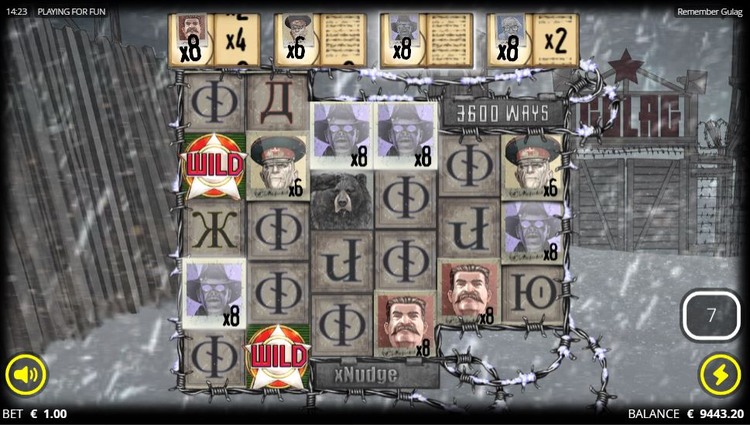 I said there were 3 bonus rounds, and there sort of are, but they are all actually just slightly different versions of the same bonus round.
They are known as Gulag Spins, Gulag Spins All Aboard, and Gulag Spins Double Vodka, and they can be triggered by landing 3, 4, or 5 scatters respectively.
During bonus spins the grid flips to become a 5,5,4,4,3,3 which is much more beneficial to the player, and all reels are open – so no barbed wire.
The standard bonus round works by assigning you a single high value symbol along with a starting multiplier for that symbol. This multiplier grows by 1x each time the symbol lands, and can also be randomly increased by the special reel at the top of the interface.
The All Aboard version of the bonus does this with all 4 high value symbols at the same time, while the Double Vodka version does the same and also increases the multipliers by 2x each time instead of 1x.
Even coupled with all of the x features though, it's hard to win big during these rounds, and the fact that your chances of triggering it organically mean you will likely have spent a lot to get there in the first place.
The features can be bought if you live outside the UK, but in my experience you are unlikely to make back what you paid for the feature. I bought all of them twice and only came out ahead 1 out of 6 bonus features.
Should You Play Remember Gulag?
I'm not saying it's a bad game, but it certainly doesn't suit me.
If, however, you are someone who loves the possibility of hitting really big numbers and are ok with extreme volatility then this game does have that sort of potential. If you can get past the theme.
Maybe you will find it more fun than I did, but for me it needed more humour and light, which is difficult to achieve with any sensitivity given that over 1.5 million people died in Gulags between 1930 and 1953.
That tells me that the theme itself is the problem here. It's just impossible to make a game like this fun without being pretty offensive along the way.
I'm a Nolimit City fan and I have no problem with darker themed slots, but in the same way you wouldn't make a game about the concentration camps, I think they should have probably left this one on the table after the initial concept meeting.