Pinch and a punch it's the first of the month – so let's have a little look at what the last 4 or 5 weeks have given us in terms of fresh slot entertainment.
There have certainly been a lot of them, although none that you might describe as headliners.
Nevertheless there are some solid new slots in there, and here are a few that I have been playing.
Euphoria – iSoftBet – RTP 95.99%
This one reminds me of something, I just can't quite put my finger on what it is. It's the way the stars burst out from the screen…
Ok, Euphoria looks a lot like Starburst. It's a bit like being dropped inside a kaleidoscope mixed with a 90s club night, and as far as the visuals and the atmosphere goes it's fantastic. Great fun.
It plays ok, with wilds and multipliers to help boost winnings, as well as a buy feature which guarantees the bonus round. The base game takes place across 5 reels, 3 rows, and has 243 ways to win with 20,000x win potential.
The bonus is a freespins round with multipliers that build as the round goes on. There are only 8 spins though and since the buy feature costs 100 times your stake it's not usually worth it, so my advice would be to wait for it to trigger naturally.
TNT Tumble – Relax Gaming – RTP 96.11%
It's always a nice change of pace when something a little different comes along and TNT Tumble gives us that with its 5×7 grid, cascading reels, stacking wilds, extra spins, and multipliers that keep increasing.
It's got a lot of layers, quite literally once you hit the freespins round, and plenty of features that make the base game just as fun to play as the feature. My only quibble is that the grid takes up so little of the screen.
The wilds are great in this game, indestructible and will keep burrowing as long as you keep winning. The freespins round can be bought or activated naturally, and you can choose either the very high, high, or medium variance option for this, and extra spins are available.
Great Rhino Megaways – Pragmatic Play – RTP 96.48%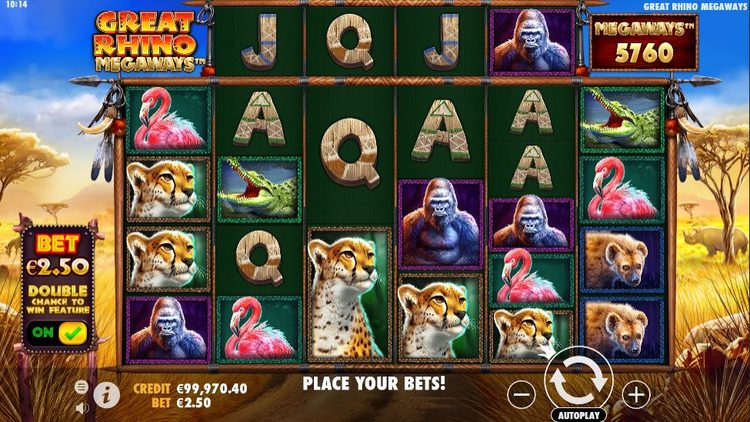 This represents Pragmatic Play's first ride on the Megaways bandwagon, and they have chosen one of their most successful games to try it out on. Yes, this is a relaunch of an older title but with a different game mechanic, creating over 200,000 ways to win – which sounds pretty good doesn't it?
It's not quite as simple as that though, and the game's  high volatility can mean longish spells with very few wins that feel drier than the Sahara where the game is set.
However, when taking the feature into account there is a 20,000x win potential, so that is an oasis worth waiting for. You can pay a little extra to boost your chances of triggering this feature, and you need 4 scatters to do that. The freespins feature includes a multiplier that improves by 1x for every cascading win.
Nero's Fortune – Quickspin – RTP 96.21%
This is one of those games that is so volatile it borders on dull, but then just when you are about to give in you hit the feature. That's what happened to me anyway. I found the base game uninspiring to say the least, but freespins was super exciting.
The base game features tumbling reels, cluster pays, and multipliers, although they rarely come to anything. The background and atmosphere are pretty dramatic but nothing to tell your friends about.
The Flames of Nero feature round gives between 10 and 14 free spins, and random spaces on the 5×5 grid have multipliers hidden behind them on each spin. If these are uncovered by cluster wins the multipliers accumulate for the next spin and this is when it gets exciting and the winnings really start to build. This round really pays off when it comes in, and it's genuinely thrilling to watch. The max win is only a little over 8000x, but how often does anyone win the max potential payout anyway?
Signing Off
So I only tried 4 new slots this month. What with COVID-19 putting the brakes on available funds I had to scale back a little, so I stuck to my old reliable favourites for the most part.
I had some very good fortune on Taco Brothers though, so if you want to try your own luck on that one be my guest, it's been good to me this month!
Still, if you have the cash and the patience I would recommend giving Nero's Fortune a try, but I didn't do well on Euphoria. If you like Megaways slots you can give Great Rhino a go but don't expect it to blow your socks off, and TNT Tumble is probably worth a tenner on low stakes if you can afford it to see how you do and you can go form there; I enjoyed playing this one a lot but came away level after 50 spins or so.