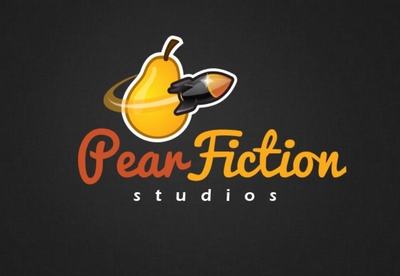 Although they have been in operation since 2014, PearFiction Studios didn't start out in iGaming.
Add to this the fact that they are based in Montreal, Canada, and you will understand why they have taken a long time to come to the attention of players on UK shores.
They are certainly here now though, cultivating working relationships with some of the biggest names in the industry such as Microgaming, and developing games that are capturing the attention of players all over the country.
This is one of those game studios that has the potential to go from exciting newcomer to middleweight champion in the space of a few short years if they play their cards – or should we say slots – right.
PearFiction Studios Story so Far
How many slot developers can say that they have an aerospace technician at the helm? Well this one can.
Thierry Semoff started life in a very different industry but hopped across to the multi-media world during the 90s, which was an excellent time to do so with hindsight.
This led him on to create PearFiction in 2014, with the mission to produce and develop casual games for mobile, but not games with a gambling element at this point. The company created a few different mobile games, including a few casino style options, and it was these that proved not only the most popular, but also the most lucrative.
Like any sensible business PearFiction listened to the feedback they were getting and eventually committed themselves to 100% to real money games in the iGaming space.
This was just as HTML5 was coming in too, so while other developers were battling to switch hordes of Flash based games over to the new way of doing things, PearFiction Studios simply started with the latest technology from scratch, increasing their appeal.
This was not the easiest transition what with all of the licensing red tape, but after a successful meeting with Leander Games, PearFiction landed their first 4 game deal, and created their first real online slots; Gustavo El Luchador, OuterSpace Invaders, FishNChips, and PugsLife – all on the Leander platform.
That was in 2017, and just a year later they had signed a licensing deal with Microgaming for their next slot, The Smashing Biscuit, as well as a deal with Casumo to develop an exclusive slot for them.
In 2019 their deal with Microgaming became exclusive, so their titles were now available across the MG network, propelling them to new heights from where they have been churning out top quality games ever since.
Game Style and Approach

While PearFiction recognise that bonus features are what most slots are all about, they make it their mission to create games that are just as entertaining while waiting to trigger those bonuses as they are during the bonuses themselves.
This means their slots have a lot of features and mini game break bonuses built in, rather than endless dead spins before the player either goes bust or hits a feature.
This makes a session playing one of their games a multi-layered and dynamic experience with plenty to discover.
In terms of artistic style PearFiction Studios sit firmly in the zany cartoony camp, creating big characters with even bigger personalities to be the faces of their games, and making any animations funny and quirky.
Expect lots of colour and plenty to draw the eye.
Themes are varied, but they don't tend to cover the same ground twice, and you won't find many (if any) classic themed slots.
You will notice that the studio often take 'inspiration' from pre-existing big name games though. For example, Blazing Mammoth isn't exactly a million miles away from WMS's Ragin Rhino, and Squealin' Riches bears more than a passing resemblance to Piggy Riches by Red Tiger.
Developers all copy each other though, and jump on the bandwagon when something goes well. Movies do the same; a smash hit war movie will be sure to be followed by 3 or 4 more before a horror comes along and grabs the headlines and everyone else makes those for a while, etc. But I digress…
Gameplay itself is fast and fun, with lots going on and usually a few different moving parts. You can expect spinning wheels, animations, flashing lights and plenty of noise.
Game Mechanics Features
PearFiction Studios are hot on creating their own in house game mechanics, rather than relying on pre-existing ones.
They could just license Megaways from BTG like everyone else, but that is no way to differentiate yourself, and this studio understands that.
To that end, while they may well include slot staples like wilds and scatter, they have also come up with their trademarked LockNWins feature, and they are doing some interesting things with jackpots too with a mechanic trademarked as SwiftHits.
This seems to be an area they are keen to experiment with and develop, so expect to see more new game mechanics as time goes on.
LockNWins Game Example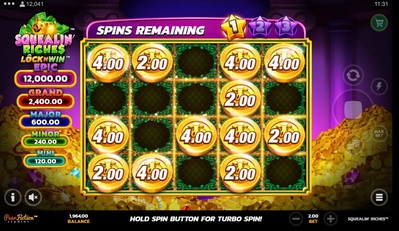 This feature is a twist on the old LinksnHold respins if you know of them, and in our example game, Squealin' Riches, it works by adding gold coin bonus symbols onto the reels. These are each worth differing amounts, but they only pay out if at least 6 of them land on the reels.
This also triggers the feature, granting 3 respins during which your existing bonus gold coin symbols lock in place, and other have the chance of joining them.
However, during these 3 spins multiplier symbols can also land and boost all of the amounts shown, and each of the 5 jackpots can be won on top of any other winnings.
As mentioned though, PearFiction like to stack their games with features so you can also get free spins, the ability to gamble the feature for a better one, wilds with win multipliers and a mini, minor, major, grand and epic jackpot that can be won.
SwiftHits Game Example
SwiftHits basically dishes out jackpots in the way of large multipliers when certain conditions are met. The difference here is that there are lots of them on a sliding scale, so instead of one lucky so and so in another country winning millions, lots of lucky so and sos all over the world will win thousands.
This shares out the RTP more evenly among players, so instead of one really big winner there are lots of smaller but still substantial winners.
For example, 15 Tridents has a 15 step jackpot ladder ranging from 1.25x to 10,000x, with the number of Trident symbols landing on the reels dictating which jackpot amount is won; 15 trident symbols equals the top step on the jackpot ladder.
Once again though, this game is not a one trick pony, so it comes with freespins, random wilds with multipliers, and a dual reel in play on all spins.
So you can see that while PearFiction might like to build some of their games around their in house features, they don't rely on those mechanics to completely carry the game.
They throw plenty of other ingredients into the mix so that every base game spin holds potential and is therefore exciting to play at every turn, not just when big features begin.