BluePrint have won me over with this one – it probably helps that I loved Thundercats as a kid and had all of the figurines; anyone else used to fancy Cheetara? Anyone..? Just me then.
On with the review. Hoooo!
Sorry.
First off, this game looks incredible. It's seriously impressive on the visual side of things, and not just graphically either. The way the game reflects the 80s TV show delivers a real shot of nostalgia, with familiar sequences and an immersive soundtrack it's impossible not to get sucked into the world of Third Earth and the Thunderfleet.
So I'm a fan. But I'm also probably a bit older than some of you, so let's just revisit Thundercats for a second and bring everyone up to speed.
What Was Thundercats?
Children of the 80s won't need to read this section. Thundercats was a hugely popular cartoon series following the journey of the Thundercats, a group of feline humanoid aliens from a planet called Thundera.
But their planet was dying and so they had to leave. They boarded the Thunderfleet and took off for pastures new, but the evil Mutants of Plun-Darr had other plans and attacked them as they searched for a new home.
(You're getting into it now aren't you, be honest)
The Thundercats' fearless leader, Lion-O, decides to put them down on a nearby planet named Third Earth, and luckily the planet's inhabitants do their best to help our cat-like heroes fight and evade the evil Mutants.
Tygra, Panthero, Lion-O, Cheetara, the kids WilyKit and WilyKat, and of course their faithful companion Snarf represented all that is just and noble in the world.
Honestly, it was so good.
Back to the Slot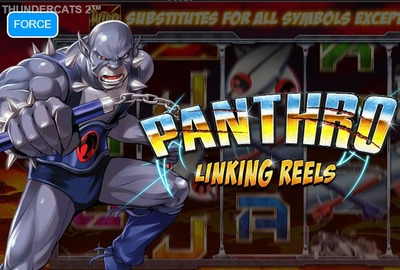 Back to business then, and this slot is much more than a great nostalgia trip. Thundercats Reels of Thundera is absolutely chocka with interesting features.
I don't think I've ever seen a game with so many randomly triggered base game modifiers, there are 10 of them altogether and they play out like this:
Lion-O – Let's start with the boss, who will add wilds to the reels.
Panthro – Links the reels so they show matching symbols.
Cheetara – Shuffles the symbols on the reels up to 5 times.
Tygra – Dashes across the reels turning some fully wild, and repeating this after every win.
Snarf – Bless Snarf, he adds bonus symbols for you.
WilyTwins – Adds mystery symbols across the board that will all match at the end of the round.
The following 4 could randomly trigger after a losing spin:
5 of a Kind – Cheetara will dash across and give you a 5 of a kind win.
Upgrades – Cheetara to the rescue again, upgrading symbols to the highest value Thundercats symbol.
Cascades – Lightning will erase some of the symbols allowing more useful ones to fall into place.
New Symbols – Lighting will destroy all of the symbols giving you a completely new board.
Bonus Features
3 bonus Thundercats symbols on any one spin will trigger the bonus wheel where you can activate one of 6 other features:
Sight Beyond Sight – Choosing one of 3 Eye's of Thundara will reveal either a Lion-O multiplier, a Logo symbol which upgrades the multipliers, a Thundertank which triggers another bonus when selected 3 times, or Mum-Ra who ends the feature.
The Black Pyramid – Reveal Lion-O to multiply your win or climb a level of the pyramid. Repeat, and if you get to the top you trigger a different bonus. Reveal Mum-Ra though and the round ends.
Ever Living Free Spins – 10 free spins with a random multiplier applied to each. 2 or more Mum-Ra symbols grant further spins with multipliers of between 6x and 10x.
Hear the Roar Free Spins – 10 free spins awarded and every Lion-O wild will upgrade a symbol. After the final spin select an Eye of Thundara for a final 1-5 extra spins.
Thundercats Hooo Free Spins – All wilds are sticky. Fill the board and bag an extra 5 spins.
Ancient Spirits of Evil – My favourite. A 3 ringed wheel of multipliers and arrows. Select from three Eyes to reveal either Lion-O who spins the wheel of multipliers, a plus symbol which adds another red arrow to the wheel, or Mum-Ra who ends the round. When the wheel spins you will land on either multiplier which will be added to your total, or an arrow which moves you inwards to the next ring. Get to the middle to trigger a final screen where you choose from all of the Thundercats to reveal a final multiplier for your total. Phew!
So there you go, that's pretty fun and potentially rewarding at the same time, with an extra element of player choice thrown in.
I love this game.