Popular streaming platform, Twitch, has finally buckled under the pressure and agreed to ban channels who stream games played on unlicensed websites.
The streaming of gambling activity has been the topic of many debates over the last few years because it is still a relatively new concept, so there are no specific laws about it.
It's incredibly difficult to police who watches a stream in terms of their age, so people who are underage can easily be exposed to gambling activity, whether it be real money gambling or gambling with CS:GO skins and the like.
Oh, you don't know what CS:GO skins are?
Wait, you don't know what Twitch is either?
Ok, let's rewind a little bit and give everybody a chance to catch up.
What on Earth is Twitch?
If you are older than about 19 you might well be wondering what Twitch is.
Ok, that might be an exaggeration, we are old and we know what it is, but it isn't particularly well known among those who might be described as middle aged.
Twitch is a streaming service, owned by Amazon, on which gamers and casino players and the like can play the games they enjoy and also broadcast what they are doing to anyone who might want to watch.
Viewers can see the hosts' screen as well as the host themselves, and can talk to them via the chat room, give them awards and virtual gifts, and subscribe to their channels.
In this way, Twitchers – as they are known – can earn real money from their streaming, so the bigger their fan base, the more they can make.
This can put pressure on Twitchers to do things that attract an audience which in turn can encourage irresponsible behaviour, although many don't need to do that or simply choose not to.
People who watch slot players or blackjack players etc. online on platforms like Youtube might also watch people playing on Twitch, making the platform an ideal 'backroad' type place to advertise for unlicensed websites.
As for CS:GO – it's a video game that people play online, and 'skins' are basically just costumes for your in game character or their equipment; for example you might be able to change the way their weapon looks, or their uniform or whatever.
Some skins are rarer than others, and are therefore more sought after, and they can be traded between players too, like any other digital asset.
All caught up? Great stuff. We'll move on.
Gambling Loopholes
Although Twitch doesn't allow streamers to link directly to gambling sites of any kind or send out referral codes, the gambling content its' users stream has not so far been restricted in any way.
In fact, streamers have been paid crazy money by gambling companies just to play games at online casinos, because the companies know what great marketing it is. If a streamer has an average viewer base of 50,000 people, that's a lot of eyes on the brand.
These are mostly crypto casinos, who will pay streamers like 'Trainwreck' a reported $30,000 per hour to gamble with them via live stream.
Another streamer, who just so happens to be a member of a popular esports team called FaZe, even owns his own gambling website. It's not crypto or real money gambling though, but gambling with those 'skins' we were talking about earlier.
The things are so popular that they have real money value and so can be used to bet with.
While we prohibit sharing links or referral codes to all sites that include slots, roulette, or dice games, we've seen some people circumvent those rules and expose our community to potential harm.

"We'll be making a policy update on 18 October to prohibit streaming of gambling sites that include slots, roulette, or dice games that aren't licensed either in the US or other jurisdictions that provide sufficient consumer protection.
In layman's terms, this means that only content streamed from websites like Casushi, Mr Q, and Play OJO will be allowed . Sites that are licensed and registered in the country you are watching from, such as those found on this site.
Interestingly, it's other streamers who have been applying a lot of the pressure to the platform, even threatening to boycott it over Christmas if the issue of unlicensed gambling content isn't addressed.
Many big creators on Twitch have been using #twitchstopgambling on Twitter to draw attention to the potential harm being caused to younger viewers by streamers promoting unhealthy gambling behaviour at unlicensed sites.
Why do People Watch Streamers Playing Slots/Blackjack/Poker etc?
It's hard to say, and is probably a question with a number of different answers.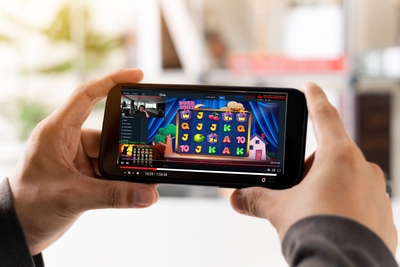 For some it might just be because they like feeling involved with something, or being part of a group – you tend to find that people watch the same streamers a lot, a bit like being a fan of a band and going to their concerts.
There may be people might not have the money to play themselves so get their kicks vicariously through others.
More still may want to watch to keep up to date with new games or learn new skills in the cases of blackjack and poker.
Twitch is a community of people at the end of the day, and slots players especially are increasingly popular, with a 66% bump in popularity since this time last year and around 50 million hours watched per month.
For the companies sponsoring some of these streams (we won't name them as they are unlicensed and we don't want anyone to get hurt by them), those sorts of numbers are too big to ignore.