Anyone who has read this blog more than once will have probably picked up that i'm generally more interested in newer, boundary pushing slot developers than the old guard.
A lot of well established names rest of their laurels if you ask me, relying on ancient releases that still do well then churning out a fair amount of dross in the meantime to try and seem relevant.
Well, perhaps that's not fair of me, perhaps I need to get off my high horse and get stuck in again. So this month I decided to play a bunch of new slots from ancient developers.
I wanted to see if my long held opinion was justified, or whether I needed to have a rethink and give these industry stalwarts more credit.
Here's how it went.
Let it Burn – NetEnt
No, Let it Burn is not a one line review, it is the title on NetEnt's latest classic themed slot.
Do you know what, I actually thought this one was ok for what it was. Starting with a classic slot probably isn't the fairest way of doing things considering  my complaint is that old developers don't push boundaries… but nevertheless.
RTP: 96%
Volatility: High
Max Win: 2700x
NetEnt have done a good job of jazzing up and old theme, giving it a modern twist without taking away the classic feel with the addition of rolling reels (they only take one space despite being called rolling 'reels').
These can appear randomly on reels 2, 3, and 4 and come with a multiplier that improves as the rolling reel moves around the reels.
It will drop one space each spin before disappearing from the game, and any wins it is involved in will benefit from the multiplier, making the base game much more interesting.
Built into the rolling reels are the directional wild symbols, which can only appear on a rolling reel and will tell it where to go next, as well as contributing to wins in the normal way.
These can save a rolling reel from leaving the game by directing it back up but can equally move it left, right, or down.
There is a freespins trigger as well; landing 3 to 5 of the casino chip symbol will grant between 10 and 20 free spins.
The grid expands for this feature and any rolling reels from the triggering spin go with you, plus, you can win more free spins by landing more casino chip symbols during the round.
The whole thing is very lively and upbeat, with fantastic visuals as you would expect and a killer soundtrack, and while I wouldn't call it boundary pushing in terms of gameplay, NetEnt have definitely made something interesting out of a very old theme.
I may have to eat some humble pie if this carries on.
Tippy Tavern – Microgaming
Do Microgaming actually make games themselves anymore, or is it all handled by the many smaller studios they have hoovered up over the years?
This one says Microgaming on the packet so we went with it (it said Snowborn too to be fair…), and also because it's Irish themed and pub themed, and it's just been Saint Patrick's Day…
…so it has.
RTP: 96.22%
Volatility: Medium/High
Max Win: 7500x
Anyway, I felt vindicated after playing this game.
It's got quite a lot going on with freespins, coin boosters, cash prizes, and stacked wilds, so it's my sort of thing on paper, but it just feels like a re-skin of about a million other games.
There's nothing 'wrong' with it, I'm just not feeling any innovation or effort to make it unique.
It's as though the developers have gone through a tombola of slot features, picked a couple, and stuck them into a well worn template before giving it a new lick of paint.
The theme is generic, the little leprechaun fella standing to the side is generic (think Gonzo in a different outfit), the symbols are generic, it feels a bit slow, and actually, the graphics feel a little flat too.
All that said, I did like the Happy Hour Bonus, that felt a little more interesting than the rest of the game.
It's a re-spin feature that gives you 3 spins to begin with, but these can be topped back up by landing coins, so it holds more potential value than it might seem at first.
Each coin has a cash value which is impacted by the coin booster multiplier which can also be improved during the round, so it's here that the game's max win potential of 7500x lies.
Needless to say I didn't manage to trigger it, but it wouldn't have been enough to get me onside anyway, despite the feature having depth.
I'd choose a brew in front of the telly over a swift one at the Tippy Tavern any day; it's destined to be played once then quickly retired and forgotten about in my opinion.
Fishin' Frenzy Even BIGGER Catch – Blueprint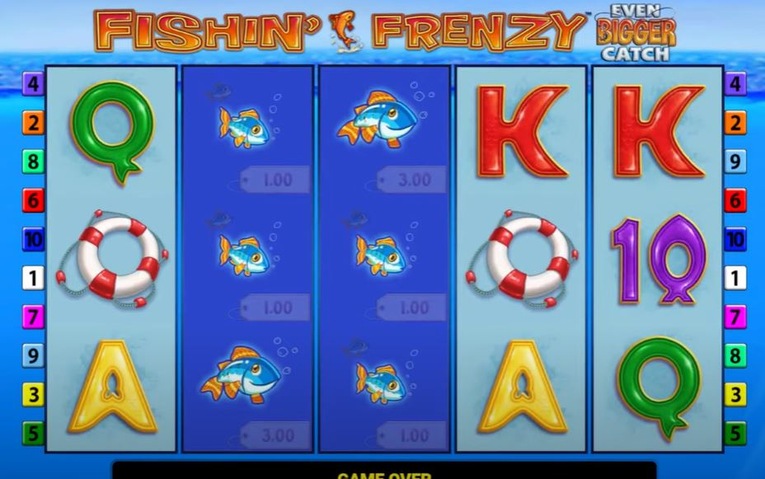 You know that saying, flogging a dead horse? Well Blueprint are still flogging this dead fish…
Well it can't be dead I suppose; loads of people obviously still play these games or else they wouldn't keep making more of them, but for anyone who wants to get excited about slotting this really isn't the one.
I don't know how many Fishin' Frenzy's have been released now and I don't care enough to research it, but they all look exactly the same and to me that is just plain lazy.
Even the name is dull. For anyone who doesn't know, they released Fishin' Frenzy, then Fishin' Frenzy 'The Big Catch', and now this one, Fishin' Frenzy 'Even Bigger Catch' – how do they keep coming up with them..?
I should probably talk about the gameplay but it's the same as the others. Here are the basics:
RTP: 95%
Volatility: Medium/High
Max Win: 10000x
It's not even got an acceptable RTP.
The base game is indistinguishable from the other games of the almost same name, but once the free spins round triggers, there is the addition of the golden fisherman alongside the regular ones.
While the regular fisherman collect any cash value fish on the screen, the golden fisherman will grant a multiplier to said fish before collecting them. If you get 4 fishermen during the round, the 'Even Bigger Catch' triggers which just gives you some more spins and ups the cash value of the fish like in the previous game.
That's it. That's the difference.
The golden fisherman symbol was apparently worth a whole new game release…
The big sell is that 10,000x win potential which you can get by re-triggering the bonus round a few times and multiplying your wins on the way.
And of course, the chances of getting 4 fishermen in one bonus round are miniscule, let alone re-triggering it with golden symbols.
I didn't pick this game just to have a go by the way, it was the only game Blueprint have released in the last month or so, so I had no choice.
I just wish they would leave it alone and try something new; their game creators must spend most of the day asleep.
Are Older Slot Providers Boring?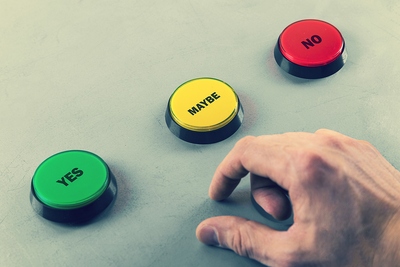 Ok so this wasn't an exhaustive sample set of games from older providers, and my opinion is subjective as all opinions always are.
But this is my blog, so I would say that yes, in my opinion, for the most part the older slot providers are pretty darn boring a lot of the time.
Every now and again they have a go, but I think I will stick with games from smaller studios who seem to have some fire in their belly.
When I spend money on a slot I am buying an experience.
I know I'm probably going to lose it all eventually, so while the excitement of maybe hitting a lucky spin is always there, what I really want is for the game to take me on a bit of a journey.
I want it to make me laugh with funny animations or pick me up with a funky soundtrack; I want it get my hopes up with a promising looking bonus trigger then dash them by making that bonus absolute pants; I want it to give me a decent win that leaves with the difficult decision of whether to withdraw a small payoff or ride out my luck.
Newer developers do all of that a lot better than older ones if you ask me.