Few new game developers make the sort of progress that Print Studios managed in their first few years of business.
Established in 2020 and with fewer than 10 games on their shelves by the end of 2023, they had already managed to strike deals with the likes of LeoVegas, Unibet, Genting, Mr Green and VideoSlots to name just a handful.
Much of this is thanks to their savvy partnership with Relax Gaming, a B2B casino platform and plugin provider who include Print Studios as one of their game providers.
This means that any client of Relax Gaming (a much bigger company) is also technically a client of Print Studios.
The company are based in Malta like so many others, but they have a fairly diverse staff considering their team is only about 15 strong, and it is this small tight unit approach that enables them to create such well crafted titles.
They have already notched up a few industry awards and a lot of nominations too, including the very apt "Outperforming Small Game Studio of the Year" in 2023.
What are Print Studios Games Like?
What you will never get with Print Studios, is something generic.
They want to create games that feel original and which have real depth, and this is immediately obvious when you start digging into the way their titles are structured.
They look good too, although this probably isn't their USP.
The graphics and animations are excellent, no question, but you wouldn't be able to recognise a Print Studios game on sight like you would with a company such as No Limit City.
You would when it comes to game play though.
What the company are great at visually, is adapting their approach to the needs of each slot. So a comic book style sci fi slot will have a completely different colour palette and aesthetic than one set in the jungle; whereas many developers simply apply their own style to each game regardless.
The same goes for sound effects and musical scores.
Themes & Features
Print Studios did not start out with the most unique of themes perhaps, opting for an Egyptian adventure style slot – although it won award so what do I know – but they soon diversified.
Very few of their games could be accused of being a copy of another, or simply running with a done to death theme, and a good number of them are genuinely unique.
Royal Potato, for instance, is set in a world where the potato is king, whereas Huntress: Wild Vengeance follows the story of a fearless huntress seeking revenge on the wild beast that killed her family. Sounds like the synopsis of a movie, doesn't it?
You will usually get a nice balance between base game features and bonus rounds/special features, but you will also find that the features they use in both scenarios are unique and interesting.
For example, their 2023 game, Pine of Plinko, is set in the treehouse dwelling of a gnome, who grants you access to his ball falling game of Plinko which is the bonus round.
This in itself is pretty unique – a game within a game – but that bonus round is multi layered too, with the ability to extend the round in several ways as well as the ability to increase the number of balls that drop which of course means more prizes when they land.
Reapers is another example of this ingenuity. The bonus round is a sort of space ship survival battle in which your ship goes up against space critters, and the different weapons at your disposal which have been collected en-route to the bonus round dictate how many critters you are able to destroy.
There is always something to pleasantly surprise you with Print Studios titles, and it's clear they think harder than most other developers when coming up with not just their ideas for games, but how to execute them too.
SuperSpinners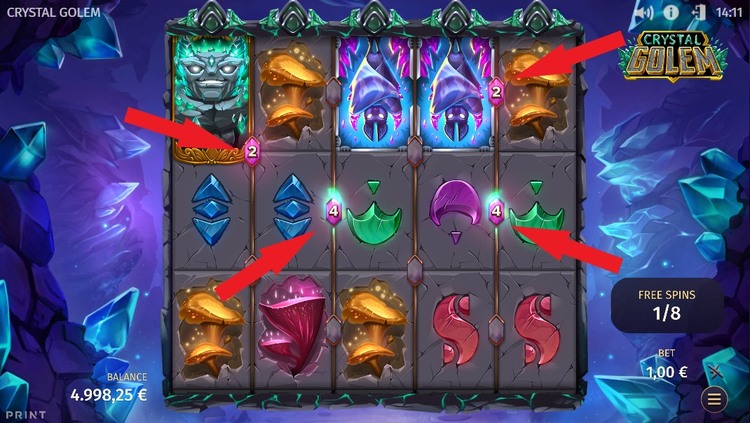 Not only are Print Studios committed to innovation when it comes to themes and features, but they have also come up with and trademarked SuperSpinners.
This is a game mechanic which embeds small multiplier symbols between the regular reel symbols on the grid, and gives some of them random multiplier amounts.
Any wins that cross these multipliers then have the multiplier amounts applied.
These can be worth up to 40x in some games, and are usually present in the base game as well as the bonus rounds, so they do a lot to keep the titles they are used in exciting at every level.
These little beauties make the games much more dynamic, and are often the reason behind some of the higher maximum possible payouts.
Gamification
This is something that other companies have tried but perhaps gone too far with and it hasn't yet caught on.
I'm a fan of a little gamification, and I think that Print Studios' approach of just dipping a toe in the water is probably wise.
If we look at a simple game feature like the ability to gamble with a feature round trigger as an example, you will get a clearer picture.
In Huntress: Wild Vengeance, players who land 3 scatters and trigger the bonus round can choose to gamble their 10 free spins for a chance to win 18 (but also risk of dropping to just 4), or a chance to win 24 (but also the risk of dropping to 0).
This in itself is a little different, but the way in which the gamble plays out sees the huntress taking aim with a bow and arrow as a bear runs up a hill. A 'Collect' button with a timer suddenly pops up and the player must hit it to stop a spinning reel and secure the number of free spins the reel shows.
It's a tiny gamification element, but it adds interest, makes the game more interactive and immersive, and also plays into the theme.
Looking at Reapers again we see a similar thing but from a totally different angle.
This game is probably a little too complex to be honest, but it comes with a tutorial you can play through (it can be skipped if you prefer) that explains how the features work.
The whole thing has a sci fi comic style and this is how the tutorial is delivered, with the player then having to break through energy barriers to access an energy facility infested with space critters where the bonus game is played.
In terms of game depth and dynamism there isn't another developer out there who can touch Print Studios.
Ethos
The glue that holds everything together and the reason behind the company's sudden success, is their ethos.
Their aim is to create games that will be played for years, and to shun the approach that many companies take of releasing new games as quickly as possible simply to stay in the news.
They want games that are high quality and that appeal to players searching for titles with deeper gameplay, and they will seek out ways to improve the experience wherever they can.
Print Studios create everything in house themselves, and never outsource to external companies to try and speed up the process. That is how you know their games have been meticulously created from conception to delivery to perform exactly as the company envisaged.
All team members are shareholders in the company, so no one is coasting, they all have a vested interest in the games being engaging and attractive to players.
What's more, every member of the team is invited to share their ideas and opinions as the games are developed regardless of their job role, which may well explain why Print Studios have been able to come up with slots that genuinely push boundaries.