Only established in 2020, Gong Gaming – or Gong Gaming Technologies to give them their full name – is a developer based out of Sofia, Bulgaria, although they also have an office in Malta.
The brand might be new, but the people behind the brand are industry veterans who have branched out on their own. This might explain how Gong managed to secure the impressive industry partnerships they have so quickly.
They signed a deal with Microgaming in 2021, just a year after launching, giving them access to resources and an enviable list of potential clients.
Their games are therefore made available via the Quickfire distribution platform to the entire Games Global network, which supplies hundreds of online casinos worldwide.
The 20+ strong Gong team call themselves Gongsters, and it seems like they have as much fun with their name as they do with the slots they develop – new releases are often announced on social media with a "Oh my Gong!"
I love a pun me, so they are already appealing to my silly side.
Gong Gaming Approach to Developing Games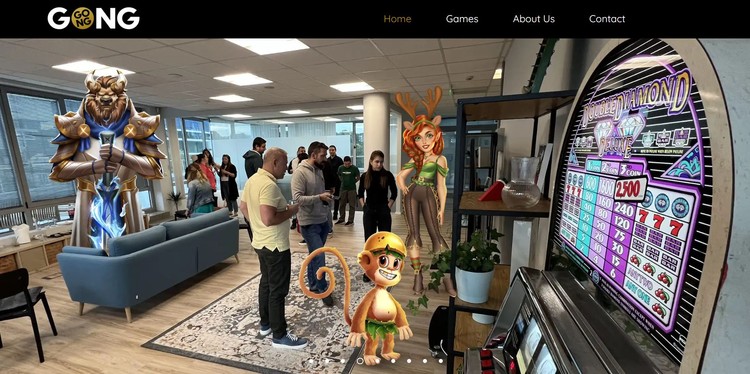 They key thing about Gong is that their games are designed for a global audience.
They are already available in 17 different countries, so their games need to appeal to folk from all walks of life.
For this reason, the company has hit as many different themes as possible with their games, from Vikings, the Wild West, Pirates, Rome, Magic and Irish slots to name just a few; no one could accuse them of not having a diverse portfolio.
This goes for the way their games play too.
It's probably fair to say that they have more high volatility slots than medium or low volatility ones, but there is certainly a healthy mix in there, and RTPs range from almost 97% right down to sub 95%.
The game structures are nicely varied too, and although they don't tend to create their own trade marked in-game features (U Max is there only one, and it's only been used in a single game), they usually strike an interesting balance between base game and bonus features to keep each spin engaging.
You wouldn't necessarily be able to spot a Gong Gaming slot among a sea of games from other providers on looks alone, but their art style definitely has a through line from one game to another.
All of their games look beautiful, going for what might be described as a modern cartoon style with a healthy dollop of realism mixed in, and the shading work in particular stands out.
They are a slots specialist so they don't create games in any other category, no roulette or blackjack or anything like that, leaving them free to direct 100% of their focus on slots.
Notable Games
Everyone will have their own favourites of course, but i'll talk about a few of mine here to give you a better idea of what Gong Gaming's slots are like.
Bananza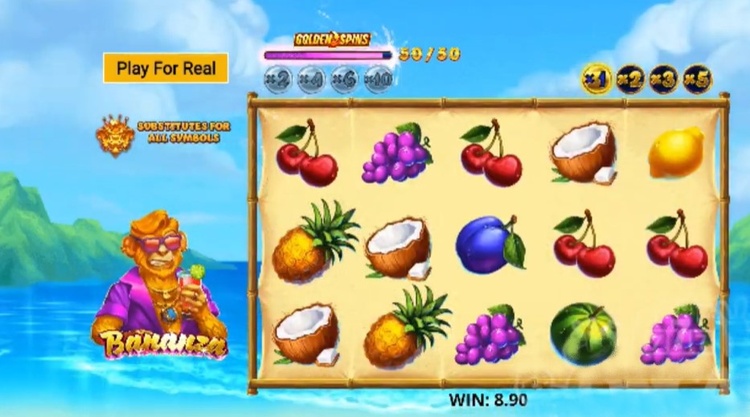 You could reasonably suggest this to be a play on the very famous slot, Bonanza, by Big Time Gaming, but other than the name there really isn't a lot in common.
It's a monkey themed beach holiday game with laid back vibes and a fun soundtrack, which kind of reminds you of the games of old but with a modern twist.
Remember what I said about striking a nice balance between base game and bonus game features?
Well in this one, the wild substitutes for all symbols including the scatters, which is very rare indeed but makes them much more exciting to see when they land.
Equally, the bonus freespins round (with multipliers) can be triggered randomly via said scatters, or by completing a progress bar at the top of the screen which gradually fills up as you spin.
A good incentive to keep playing if you are close to filling it, and an even better way to stop players having a really unlucky session and walking away feeling robbed. How many times have you fed a machine that never gave you a single bonus? That wouldn't happen here.
As you can see, no shiny new features, but an excellent balance of regular features with a few little twists and improvements.
Viking Queen
Another good example of a Gong game that uses a little bit of innovation to turn a basic slot into something much more interesting.
So during the base game, special shield symbols can land that are added to a multiplier increase bar on the left of the grid.
These shield symbols are collected and one by one push you to the next 'level', and this level represents the value of your freespins round if and when it eventually comes in.
So you are building the potential value of the freespins round as you play the base game.
Each time you level up the multiplier applied to all free spins wins increases by 1x, and the shield symbol changes in appearance with each new level too which adds interest.
These aren't dead symbols either, they reveal free spins scatter symbols once the shield has been collected.
Often, games that are basically just a churn until you trigger the bonus round can be dull, but Gong have done just enough to reverse this effect without needing to overcomplicate things, and the result is a very playable game indeed.
Royal League Jackpot Series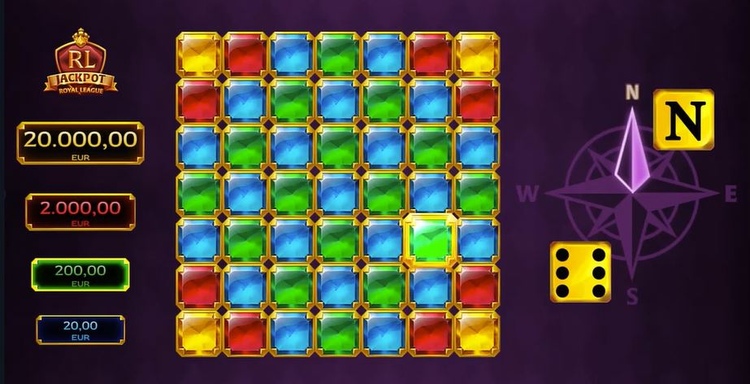 One extra thing to mention is Gong's Royal League Jackpot Series, which is built into a few of their games.
This triggers at random during the base game, transporting the player into a special jackpot game that replaces the reels with a 7×7 tiled grid populated with different coloured jewels.
The different colours relate to the different size jackpots (there are 4 of them, ranging from pocket change to enough to buy a new kitchen), and there is also a compass and a pair of dice to roll.
The compass shows which direction on the grid you will move, and one of the dice reveals either a new direction or the same direction, and the other dice reveals the number of spaces you will move in that direction or a collect symbol.
The game plays out until the collect symbol is rolled, and whatever colour square you are on at that time is the jackpot you will win.