If you have ever downloaded one of those phone games to play on the bus on your way home from work, the sort that have endless levels but can occupy your brain for hours, then you have played what's known as 'casual' games.
They aren't too taxing to play or to understand, you can pick them up and put them down as and when you please, and they are usually free to play but with the option the make purchases in game.
Will Skillzz Gaming are all about bringing the world of real money wagering to these sorts of games, to create a bridge between casual games and casino games, and they are very very good at it.
Their content feels fresh, unique, grounded, and well thought out.
What they have done, in effect, is create a whole new genre for the online casino industry to embrace, bringing two different groups of gamers together and diversifying the space in a way that has never been done before.
Casual Games with Real Money Wins
This is actually something of a tagline for Skillzz Gaming, and it sums them up perfectly.
The great thing is that they don't just stick to one type of casual game either, they have a broad range of game genres or types that all fit into the casual game category, but which have been redesigned to incorporate real money wagering.
This definitely fills a gap in the market, but is still a very niche concept, making Skillzz Gaming one of the first serious studios to enter the market – actually, they are creating the market themselves.
And this was the plan all along.
The company was formed in 2015 with a vision to bring new genres to the gaming industry scene by taking casual gaming formats and integrating them with real money game foundations.
Their CEO, Eran Sharar, had worked in the gambling industry for a while, and he thought that the DNA of online gamers was changing, so he wanted to create games for this new generation of people who had grown up playing casual games on their phones.
The industry has reacted well to Skillzz Gaming, an Israel based company, with both Microgaming and Pariplay distributing their titles from early on, and the games themselves already being played all over Europe and in the US, and at big name brands too.
This sort of success doesn't happen for everyone, but where Skillzz Gaming have placed themselves makes them a bit of a no brainer for platforms looking for new and truly innovative studios to sign deals with.
Game Types
Since they are so creative in the way they repackage the idea of real money gaming, the guys at Skillzz Gaming have categorised their games.
Essentially, all games within these categories or genres will work in the same way, but the themes and the specific features within them can vary just like they would with the thousands of regular video slots out there.
So just because I have used a specific game as an example of the genre here, it doesn't mean all games within that category will be exactly the same.
Match-3
If you imagine playing Candy Crush for money, then you have more or less got the idea of the Match-3 games.
The idea is to match at least 3 of the same symbol in any pattern so long as they are joined by at least one edge of the square.
The more combinations you can find the more the multiplier bar for each symbol will fill up at the side. This keeps going until there are no more moves, with new symbols falling into the place of any that have been winners, so you can also try and be strategic about which combinations you choose to click on and when.
We are using Fruit Blast as the example game here, and you can see from the image that we have filled the Cherry bar twice (which pays out 0.5x each time you fill it) and are half way to filling it again.
We are also close to filling the Grapes which pays out at 2x but it looks like we won't manage to fill that one completely before we run out of moves, so it won't end up paying out this time around.
There are also ways to upgrade the board, such as gaining points to get a new bartender who can offer extra symbols such as bonus symbols and the like. SO the game gets better as you go.
Match-3 games are great for anyone who enjoys those cute phone games like Candy Crush, but also want to play for money. They are a pretty chilled out laid back way to gamble, and the extra interaction gives the player a small element of control too.
Runner
These games display as though you are playing on mobile regardless of the device you have chosen, but there is a good reason for that.
The Runner games consist of a few different stages of gameplay, including one which is like an old school racing game that is a lot of fun, and even includes an element of skill which is very rare in real money gaming.
Mega Money Rush is their showcase Runner game, and in this one you first spin a wheel to get a 'prize'. This is the first stage of the game.
Each spin costs a stake, but you only win money during the race itself once you get through to it.
That prize could be experience points (which upgrade the tracks you race on and the prizes available), instant cash wins, powerups that are useable when you start a race, or a 'surprise' which is a random selection of what has already been described.
You can also win nothing, or land on a symbol that starts the race itself.
Ideally, you would get all the powerups and few instant wins and then start the race, but it can happen in any order.
Once the race begins, you control your vehicle and move it left or right to collect coins and bigger prizes, as well as to move out of the way of obstacles, so it's a fully functioning game in its own right even without the financial aspect.
Each race map is worth a certain amount of money, so your job is to be skilful enough to collect every prize on the map and avoid every obstacle.
Whatever your total is at the end is your prize for that race.
The big thing to note here, is that you can actually lose money as well as winning it.
Hitting obstacles will deduct money from your prize fund, so be careful. You can't lose money from your betting account though – if you were to crash into everything you just wouldn't win anything for that round.
The Runner games are arguably Skillzz' most innovative and also the most challenging for regular slots players, since the skill element is highly irregular, but great fun nevertheless.
Strategy
Calling these 'strategy' games may be a slight exaggeration, but there is certainly an element of strategy in there.
If we use Battle Royale as an example, the game is almost like a digital version of Yu-Gi-Oh! but with less detail.
The player's 5 warrior cards face off against the computer's 5 enemy cards, either being killed or causing damage to their opponent.
If enough damage is caused to an opponent to kill them, then any 'coins' you have won from the fight are locked in as wins, but if your warrior dies then any coins they have earned from damage are lost.
Each warrior will be either green, red, or blue, indicating the volatility of that warrior – so how likely or not it is to defeat the opponent – with the size of wins obviously being higher for the more volatile ones.
They all have their own individual skills and abilities too.
The great thing about these Strategy type games is that the player can unlock new heroes and change their 5 warriors, so that in effect, you can tailor the game to meet the volatility you like to play.
You can also trigger time based bonus events with higher payouts and travel to different maps with increasingly appealing bonuses built into them too, so there is a sense of achievement as you go along that isn't just based on winning money.
Ultimately, whether or not your warrior wins their fight is down to the RNG just like the spin of  video slot, but it's much more interesting this way, and the player can choose how they want the game to play too.
Instant Win
To be honest, although these games are called Instant Win as a category, they are much more interesting than your regular virtual scratch card, for instance.
Looking at 10/20: Galactic Lines as an example, the aim is to create luminous lines inside tubes that form a pattern on the screen. Qualifying lines will build wins (lines not in tubes don't win you anything).
Get enough qualifying lines of the same colour and you start winning money, starting from a minimum of 0.2x for the lowest value colour and 0.8x for the highest value colour.
That's for 3 matching lines, but if you get more you can win a maximum of between 5,000x and 10,000x depending on the colour of the lines.
You can see what I mean in the image above; I have 4 purple lines but only 2 of them are inside the tubes that form the house pattern, so I wouldn't win anything on that go.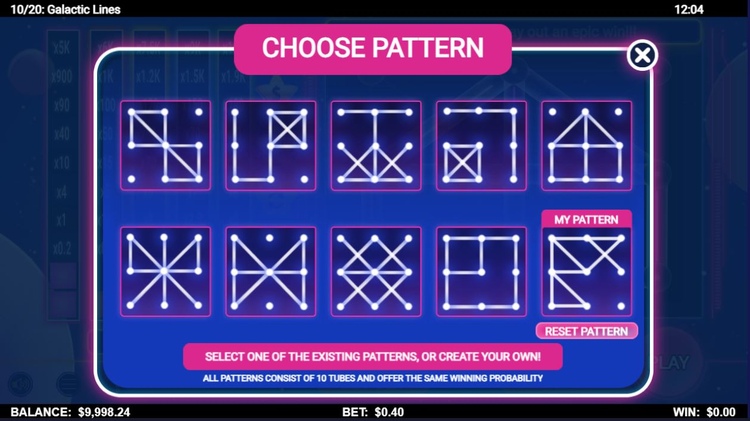 Now, while the game certainly is quite quick, it's not instant, so once again you get a bit more entertainment value out of it each time you play.
And that's before we examine the extra content.
Lines can also contain instant win symbols (grants a prize regardless of the lines) and free goes etc., not to mention the fact that there are various different patterns to choose from, as well as the option to create your own.
So you can have a bit of fun with the game outside of the actual gameplay itself, which adds value.
The innovation on show even with Instant Win games really is impressive.
Video Slot
Although Skillzz Gaming's mission statement is all about changing the landscape of real money gaming, they do develop a few more traditional video slots too.
In all honesty, while their video slots are brilliant, they don't demonstrate the same sort of ingenuity on display in Skillzz' other game types.
That's ok though, because they are still action packed and they give the company a chance to show what they can do visually as well, with games like Fortuna Carnivale being a great example of a slot that doesn't just look good, but sounds and feels good too.
It actually feels mechanical when you hear the reels coming to a stop, and the game is packed full of features too.
Goldie Luck is another of their slots, and it shows a different style to their art work, leaning heavily into the slots of old for a more classic feel, although it isn't classic in theme.
It's a simple game that is all about various different wilds aside from the bonus game, so they have taken it in a totally different direction to Fortuna Carnivale, and it will therefore appeal to a different type of player.
Developing slots alongside their more niche games is probably a good way of introducing themselves to the online casino world as a brand, in order the gain trust from players who may then try the game genres they are not used to playing.