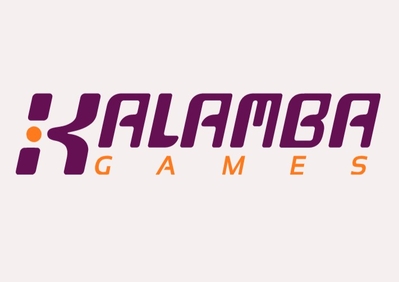 In 2016, two industry veterans, Steve Cutler and Alex Cohen, came together to create Kalamba Games. They felt like there was a gap in the market for a provider that could successfully blend elements of social casino with real money gaming.
Kalamba, apparently, means "greatest", so the team have set the bar high but have managed to meet it consistently through a combination of new and creative in game features and the speed at which they can bring new games to market.
Less than 5 years after the company was formed, they had 50 original games to their name showcasing features and mathematics models that will be covered later in this post.
Although based in Poland and Malta, Kalamba's games are already available all over the world. They aren't yet mainstream in the UK, although you can play them here, but it would be no surprise to see this change over the next few years.
What Makes Kalamba Games Unique?
For any new game developer to stand a chance in such a crowded market, they have to bring something new to the table, it's no use releasing the same old stuff just with better graphics.
Kalamba have already come up with a number of great features used across many of their games, such as:
Personal Progressive Jackpots
Hyper Bonus – Instant Free Spins Round
Symbol Collection Mechanic
HyperBet – Adjustable Volatility Meter
Lucky Loops – Every 10th Spin is a Bonus Spin
Player Missions With Bonus Prizes on Completion
They also love putting a female hero at the centre of their slots, so they are really representing for the ladies.
Let's focus on the gameplay features though, and touch on a few of them in a little more detail.
Collection Symbols
The symbol collection mechanic is great for players and casinos alike, because it can be integrated with promotions as well as serving as a standalone in game feature.
This is a clever idea from Kalamba because it gives their B2B customers options and a way to promote specific games with a strong USP, as well as giving players an exciting feature to enjoy. It's a win win.
It can be used in different ways too.
In Wildcraft, symbols that are collected go towards creating wild reels for a certain number of spins, whereas in Midas Treasure collecting enough symbols grants access to the bonus game.
Just two examples of how dynamic this feature can be.
HybertBet Adjustable Volatility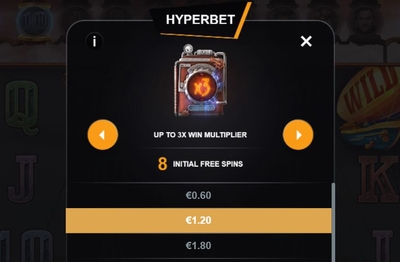 Where the HyperBet ability is included, it gives the games more flexibility and a sense of personalisation, because players can adjust their bets as well as the volatility level they are playing at. So if you like the game but not the volatility, you don't have to miss out.
It works in different ways for different games, but for example in Desert Gem the player can make more of the symbols 'golden symbols'. This increases the bet but those symbols also pay out more when they land, hence, greater volatility.
In Sky Hunters, the freespins round can be adjusted to give more freespins when the round is triggered as well as a higher multiplier on wins in the base game. Again, this adjusts the cost of each spin and thus the volatility.
Lucky Loops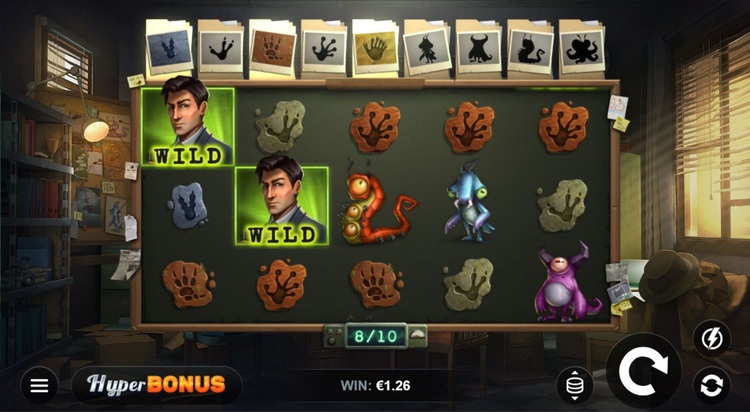 This really gives you something to play for in the base game, meaning that you aren't simply hitting spin and hoping for a bonus round on a loop.
You can think of it as a mini bonus round because every 10th spin is a special spin with added potential for bigger wins.
It works differently for different games, but using Agent 51 as an example; every 10th spin sees all symbols that have been 'collected' during the 9 previous spins turn into expanding symbols.
If they land on that 10th spin they will expand to cover the whole reel, so landing a couple of the same collected symbols can create massive base game payouts.
Individuality
What's great about all of these features, is that Kalamba don't stick to a single model to implement them.
Many providers find a feature or gimmick that works and then simply plaster it over all of their games. Kalamba may use the same features in different games, but they are always tied into the theme in a unique way.
This bespoke approach really sets them apart and makes each of their games truly individual rather than a clone with a different skin.
They can also use any combination of their features, so you might find Lucky Loops and the HyperBet ability available in the same slot, but Collection Symbols and Personal Jackpots in another. It gives them a lot of diversification.
Speed to Market
Something else that is notable about Kalamba is just how quickly they can get new games up and running.
Their initial target of one new game a month was pretty ambitious but they soon upped it and now have a stable of 50+ titles on offer.
This is especially impressive given everything we have spoken about above. If they were just throwing out clones with different art work it would be less impressive, but these games are all tailor made.
What has helped in this respect is the deals they have with platform providers like Oryx Gaming who they partnered with in 2017 when barely a year old. Next was Solid Gaming which gave Kalamba exposure to the Asian marketplace, before names better known to UK players like EveryMatrix and iSoftBet got involved.
This gave them all important increased cash flow, as well as getting their name out there far and wide, and building a fan base who would be waiting for their latest titles.
With increased demand, the company could forecast profits more accurately, and thus employ more people to get their games on the virtual shelves in less time.