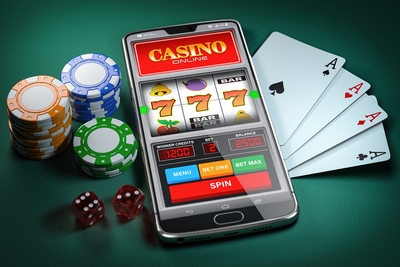 There are countless online gambling websites out there, and each of them offers something slightly different to the next, but at the same time, a lot of them can be very very similar.
The market niche each one is going for can be incredibly specific, so the types of games they offer will be tailored to attract this particular type of player.
But these minor differences can have the adverse effect of causing confusion for customers, especially those new to the world of online casinos etc; why do some sites list every type of game and others only seem to list slots? Why do some sites have every variant of roulette known to man and others have none at all? Why do bingo sites seem to offer slots as well?
It's all explained here.
Why are Gambling Sites Slightly Different?
If you go to a pizza restaurant with a group of friends you are all there for the same reason, right? To socialise with your pals and to eat pizza.
These are two things that you will all be doing. But whereas you yourself might have a pepperoni stuffed crust, one of your party might go for a simple ham and mushroom. The next guy along is veggie so he picks the veggie option, and the lady next to him goes all in for the spicy meat feast, but only mild chilli's please, the other ones are too hot for her.
I'm not just trying to make you hungry; I'm using this pizza based metaphor to show you that although all online slots, casino, and bingo sites are essentially offering you the same thing, everyone will want their online play time to give them something slightly different.
You can split the 'types' – for want of a better word – of online gaming sites into three broad categories, so let's go through them one by one. Although as a disclaimer I will say that there will always be sites that have one foot in one category and the other in another, so these aren't hard and fast rules.
Let's dive in.
Online Casinos
The term 'online casino' is used as a catch all to describe pretty much any website that offers gambling games these days.
However, to be pedantic about it they are only really online casinos if they offer a wide range of content including table games and the like.
An online casino will likely be a bigger site, with more categories in the menu and often a large number of total games because of this.
They will include slots, jackpots, table games like roulette and black jack, and maybe even scratch card type games – sometimes called soft games or instant wins – that are much quicker to play.
Any online casino worth its' salt will also want to include a live casino which typically resembles a land based casino and gives a more traditional experience, offering games like blackjack, roulette, baccarat, sic bo, poker, etc.
You might even find bingo or lotto games at an online casino, but these will usually feel tagged on as opposed to the slots and table games which are the main event, receiving the heaviest promotion and being linked to bonuses and offers etc.
Some online casinos might focus more on the traditional sorts of games to draw in the more serious players, so they will focus on table games, poker, and live casino while offering slots as a close second.
Others will be more colourful and light hearted, boasting hundreds of slots but also running a live casino albeit without much fanfare.
You may also find a sportsbook attached to an online casino, whereas this is hardly ever the case with a slots site and literally never happens with bingo sites.
Slots Sites
A slots site will, rather unsurprisingly, focus mainly on video slots.
They may also have a token spattering of RNG based table games but won't tend to have a live casino attached. They are much more likely to have scratch cards or instant wins instead.
These sorts of sites might also run quirky promotions or offer players the chance to collect trophies and/or reward points which can be traded in for free spins and things like that.
They almost always have an energising and playful vibe to them, and it is at these sorts of sites that you are most likely to find games numbering into the thousands rather than hundreds, although some slot sites are much more picky and only host around 50 titles.
They may or may not offer jackpots, but this is an area in which they can differentiate themselves; one slots site might be all about the progressives, whereas another might just have a handful. Each site will attract a slightly different sort of player.
Slot sites will also either stick to a single developer (sometimes even an in-house one) or go all out and have games from scores of different game studios.
It is much more likely for a slot site to have some sort of whacky theme in order to stand out than an online casino, such as basing the casino in space or in a zoo or something.
Bingo Sites
Finally, a bingo site is considered to be entirely separate to the other two by most people, as it stereotypically attracts a very different sort of player. This is because the pace, style, and rewards on offer from a bingo game are distinct from that of slots and table games, and even online is seen as a more sociable activity.
Bingo rooms almost always have chat rooms attached where you can talk to the other players and the room host, this never happens with slots, although you can chat in live casino too funnily enough.
That said, all bingo sites will offer what they call 'side games' along with their different bingo rooms. These side games are just slots, the exact same slots that you would find at an online casino or slots site, but their number is often much more limited.
Promotions at bingo sites are more likely to be geared towards the bingo itself, but reward points are still a strong possibility and slots are usually included in this.
A bingo site will have different themes of bingo room and based on different bingo games too (90 ball, 75 ball, etc.) and some rooms are even branded and linked with popular TV quiz shows and soap operas.
Some of the huge household name gambling companies may have their own bingo sites, but all will run on a network which links players from different sites so that prizes are higher.