January can be pretty dull can't it? Mine was.
I spent all my money at Christmas, it's darker outside than the theme of a NoLimit City game, and obviously I got sick because it's January and January hates me.
Oh, and I'm half a stone heavier too of course, after gorging my way through December.
Luckily, the first month of 2023 was pretty good to us on the online slot front though, so my misery was punctuated with occasional evenings of fun.
Here's what I've been playing – have you tried any of them yet?
Franks Farm – Hacksaw Gaming
I don't know why but I loved this one, I found it so relaxing to play with a brew in the evening.
Maybe it's the casual laid back nature of the titular farm owner, Frank, who is a sloth… I think… something cute and cuddly anyway.
Hacksaw Gaming is the developer behind Franks Farm, and although it's not packed with features, it's got enough dynamism to hold your interest, and thematically it doesn't struggle either.
Here are the basics:
Reels: 6×6 Grid
Paylines: Scatter Pays
Volatility: Medium
Max Win: 5,000x
RTP: 96.31%
Scatter pays mean symbols don't need to land in groups to be counted, which is useful, and winning symbols are replaced by new ones on the same spin leading the chain reaction wins.
This can be especially useful in the free spin feature rounds.
There are two of these:
Order Rush – Triggered by 3 Frank FS symbols
Diner Dash – Triggered by 4 Frank FS symbols
The first of these, Order Rush, requires you to collect a certain number of specific symbols to fulfil an order – 10 bees, for example – at which point the minimum value of any future market multiplier symbols increases by 1x.
These market multipliers are scatter symbols that are also present in the base game, and what they do is apply said multiplier to any wins that occur while they are on the board.
The best thing, is that if more than one market multiplier lands, they multiply by each other before being applied to your win, so they are valuable.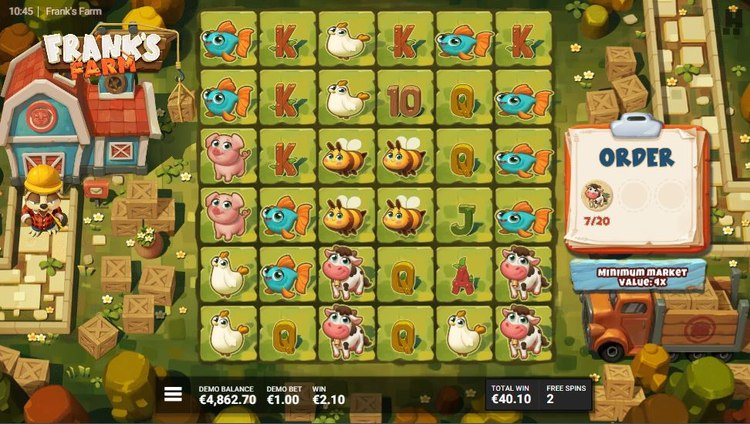 The Diner Dash symbol sounds good on paper, because once a diner symbol lands it stays there until the end of the round, and collects all wins that occur from that point on.
The wins get paid out on repeat every spin after that, so if you win £15.00 on spin 2 with a diner symbol on the board, that £15 will keep being paid out every spin going forward, as well as any new wins that come in.
Landing extra Frank FS symbols gives you extra free spins too.
On the face of it then, Diner Dash is the better round to trigger, but I found during my time playing that it was so hard to land a diner in the first place, that the round always paid out less than Order Rush.
Maybe just bad luck on my part though.
Either way, for a reason I can't quite put my finger on, Frank's Farm was just what I needed to ignore the January blues.
Walk of Shame – NoLimit City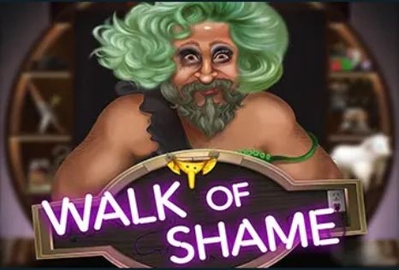 Yes I know I review NoLimit City games all the time but they consistently develop games that appeal to my warped sense of humour.
This one is no different.
It's set partly during and partly after a heavy night out, and is filled with worse for wear characters who have been behaving outrageously, wearing naughty outfits, and fighting – all the ingredients of a good night out.
Expect to see empty cocktail glasses, blow up sheep, and even some fun poked at other developers – see if you can spot Gonzo from Gonzo's Quest if you play.
Here are the nuts and bolts:
Reels: 5
Paylines: 768
Volatility: Medium
Max Win: 9822x
RTP: 96.04%
As usual, the game is full of features, although the base game feels lighter than some of their other titles. Nevertheless, it's still loads of fun.
Starting with wilds then, and as they like to do, the NLC guys have taken a routine feature and done something interesting with it, by creating Loaded Wilds.
These occur when a high paying symbol covers an entire reel on reels 2-4. The four stacked symbols all become one single Loaded Wild, and gain a 4x multiplier.
There are 2 scatters; The Mr E and the Invitation (which has Mr E written on it, confusingly).
The Mr E symbol is actually multi purpose, as in the base game it will turn into an xSplit symbol splitting either the row or the reel, and if it coincides with a Loaded Wild, it will trigger the Walk of Shame.
This is when the Loaded Wild becomes a walking wild, headed one reel to the left on each spin until it hits reel 2.
Otherwise, the aforementioned scatters can bag you different bonus rounds depending on how they land:
3 Invitation Scatters – 10 Spins of One More!
4 Invitation Scatters – 15 Spins of One More!
3 Invitation Scatters + 1 Mr E Scatter – 10 Spins of All Nighter!
3 Invitation Scatters + 1 Mr E Scatter – 15 Spins of All Nighter!
One More! is the least valuable bonus round of the two, but you definitely wouldn't say no to it, and it sort of acts as the gateway to the All Nighter.
Each Loaded Wild that lands adds x1 to the overall win multiplier for the round, and landing further Invitation Scatters adds between 1 and 7 extra spins to your freespin tally, depending on how many scatters land.
If you land a Mr E during One More! then you will trigger the All Nighter and add 3 more spins.
This has a few additional benefits, such as Loaded Wilds having the ability to turn into a Walk of Shame, for example, and the Mr E symbol that triggered it remaining in place until you run out of spins, acting as an xSplit on every spin.
I had great fun with this game. I certainly can't handle big nights out anymore, but it was nice to revisit the vibe from the comfort of my little office, and with none of the morning after guilt that I used to get.